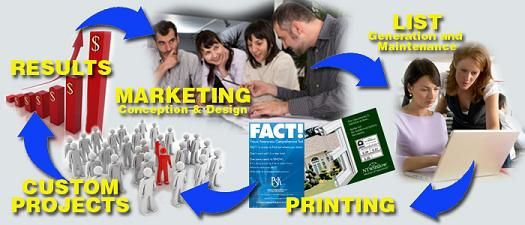 Alphagraphics can help you with:
Marketing conception and design
Target marketing
Custom mailing list generation
Direct mail printing
Full color printing
Variable data printing
Full mail merge capability
Personalized letters, post cards and marketing material
Inserts into envelopes
Database management
Metering (presort standard and first class)
Delivery to Post Office
Direct mail can help you reach your targeted audience more effectively. By tailoring your message to appeal to the individual needs of everyone you reach, you can boost sales, create loyalty and maximize your ROI.
At Alphagraphics we can help you find information about your audience with list acquisition and data management services and help you integrate it into your marketing with our variable data print services. Whether your needs are to generate leads, cross-sell or upsell to your customers, reactivate clients or communicate to prospects, we can create a direct mail piece that will effectively communicate your message.
Using variable data printing we can transform the information you have into a personalized piece that can generate leads and sales more effectively. Research shows that using prsonalized messages to a target audience increases response rates up to 15 times.
We provide targeted direct mail, direct mail marketing, variable data printing, variable printing, direct mail printing, mailing list, direct mailing, marketing direct and personalized letters. We are located in Arlington, Fort Worth, Dallas, Irving, Grand Prairie and Mansfield.