Wall Graphics in Arlington, TX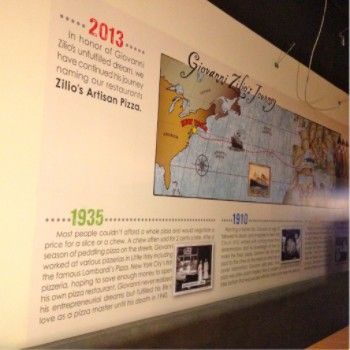 To define an atmosphere in a conference room, or to greet your clients from behind the secretary's desk, wall graphics can define the atmosphere and attitude in any part of the office. They are the perfect visual aid for presenting your company's branding, logo, or motto in any area in the building.
Make a BIG Statement in almost any space
Because of their ease of use, low cost, and ability to simply change the tone of an area, wall graphics are increasing in popularity for businesses. If you're in the Arlington, Grand Prairie, and Mansfield areas, call Alphagraphics today for all your wall graphics needs! Wall graphics can be designed and fit into any space because they're printed on high quality, flexible vinyl that can be contour cut to any shape or size imaginable. That makes them ideal for hallways, conference rooms, waiting rooms, break rooms, cafeterias, retail spaces, office walls, and everything else in between.
Unlimited possibilities
Wall graphics have several advantages over the more traditional signage:
Available removable and reusable vinyl makes positioning and repositioning easy. This means no residue to clean up, and no holes to patch when the wall graphic changes places.
Quickly produced
Can be made from almost any file or photo provided
Sizable to any specifications - sticker sized to building sized
Adaptable to almost any surface, including wood, glass, metal, plastic, drywall, and painted surfaces
Contour cutting allows for the wall graphic to be made to any size or shape.
Fade resistant for long-lasting functionality
There's no end to the many, many uses for wall graphics!
Looking to get a wall graphic for your office or company, but can't nail down a concept? No problem. Let the professionals at Alphagraphics help you design, lay out, and set up your ideal wall graphic for the office, retail space, home, or anything in between, no matter what the dimensions may be.
Don't hesitate - call Alphagraphics today for a quote!