Kitting and Fulfillment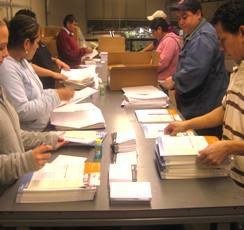 You've got the message and the materials but you lack the time or staff to spend hours assembling, packing, addressing and shipping items. At Swifty Solutions we can help you with our kitting and fulfillment services. Whether you need full kitting services or simple assembly help, count on Swifty Solutions to provide the accuracy and quality assurance you need to put together and send your important projects. At Swifty Solutions we provide:
* Receive your materials and store them for you
* Pick, pack, and assemble them together for you
* Copy or print new materials and provide finishing and binding
* Label and ship materials wherever you need them to go
* Handle complex product kits that include packing, collateral and marketing campaigns
The Swifty Solutions team can handle kitting and fulfillment projects from simple sales sheets to individually customized complex multi-piece packages. With our Web-to-Print services we can help you create a custom catalog of all materials, so that you can more easily select items for assembly and shipping. Some examples of fulfillment projects include:
* Promotional products to customers and prospects
* Presentation materials for training and seminars
* Employee benefit program packages
* Marketing or sales literature materials
* Newsletters
* Awards and gifts
* Forms and other materials for customers
And much more! Contact us by phone or by email for a personal consultation.